Recent LDS Scholar observations favoring a modern origin for the Book of Mormon
last update: 2022-12-21
(compilation)
LDS scholars have been presenting research or observations over the past decade or so that collectively lend weight to the modern origin theory. To be clear, none of these scholars would likely endorse the modern origin theory themselves; rather, they would tend to interpret their individual observations in other ways (e.g., via an expansionist theory). Still, when viewed collectively, and especially in light of other historical and literary anlysis by non-LDS researchers on the Book of Mormon,1 the modern origin theory unifies and makes sense of these observations: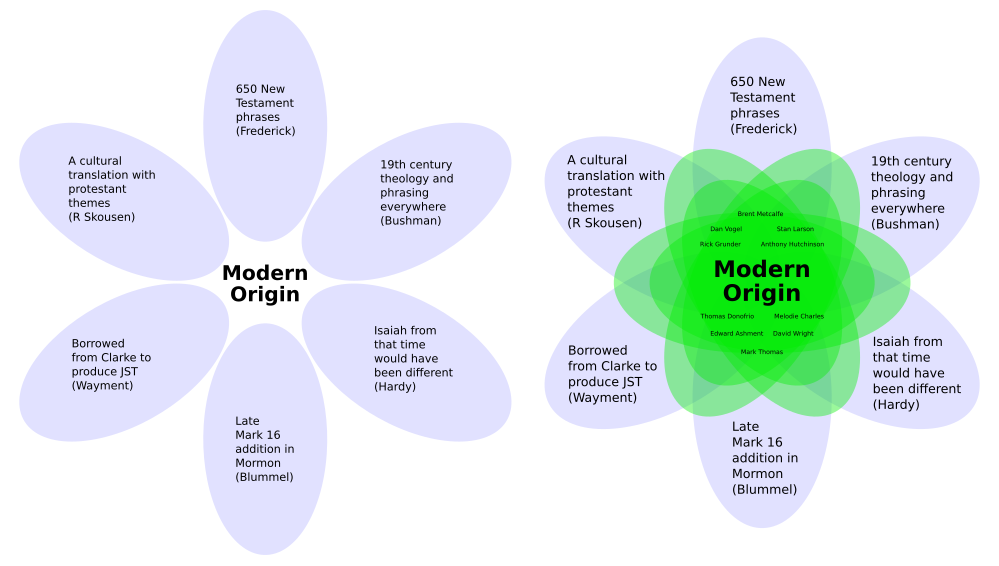 LDS Scholar observations
Conclusion
Most of the above scholars seem unaware of the vast body of evidence suggesting a modern origin and are likely to explain their observations using other models (for example, an expansionist model or to expect anachronisms); still, many of their honest observations lend significant credence to the possibility that the Book of Mormon was not produced by ancient minds.
Regardless, anyone who parses the early 1800s literature will observe that many, if not all, theological doctrines and themes advanced in the Book of Mormon had close precursors, variants, or a deep foundation in, the theology and thought of the early 1800s.
See also
Book of Mormon parallels to 1800s thought